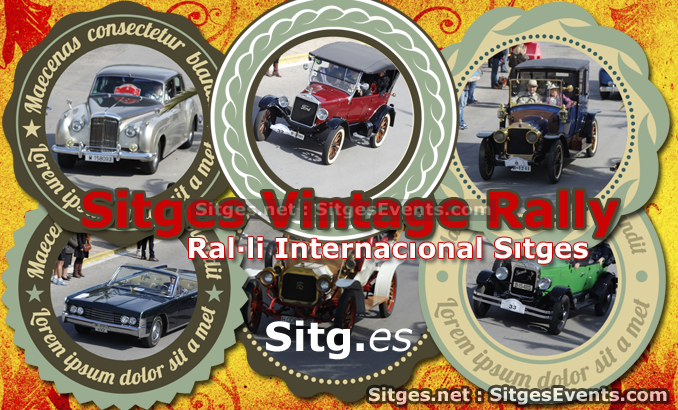 TYPICAL SCHEDULE:
Vintage Car Rally
12.30PM (12:30 hrs) RALLY at SITGES MARINA
Cars arrive collecting for showcase in Port d'Aiguadolç Marina
prsentació on Ignatius Garrigó Councillor for Tourism of the City of Sitges
1.30PM (13:30 hrs) (approx) RALLY at SITGES CHURCH
Cars drive from Port d' Aiguadolç sitges main Square, below Sitges Church (Pl. de la Fragata)
Route: Av. Port d'Aiguadolç, Emerencià Roig i Raventós, Av. Balmins, Port Alegre, Rafael Llopart, Jesús, Cap de la Vila, Parellades, Bonaire, Pg. de la Ribera to Av. Sofia, Pg. de la Ribera and Pl. de la Fragata. MORE ON SitgesEvents.com

Live Music Performances
12 MIDDAY to 2PM (12:00 – 14:00 hrs)
FREE Live Music
Cap de la Vila. Group: "Jazz Antic Quartet"
Plaça de la Fragata. Group: "Los 3 juanetes del Apocadixie"
Exhibition 30 luxury sports cars
12 MIDDAY to 1.15PM (12:00 – 13:15 hrs)
Sports Car Exhibition
30 Luxury Sport Cars Exhibition at Pl. de la Fragata by 6to6 Motor (below Sitges Church)
MORE ON SitgesEvents.com



Photo Competition
Often there is an 'Instragram Rally Photo Competition'
Best Photo Wins:  5 Star Hotel Dolce Sitges night (B&B)
enter the contest using the hastag # rallibcnstg14
(during event: @ralliebarcelonasitges)
The Sitges Vintage Car Rally arrives on it's journey from Barcelona via the mountain road (often leave 11am and arrive 12.30pm)
Arriving at Sitges Marina, to park and display cars,  then across Sitges to the sea front Promenade. Parking for display under the church (Frigate Square).
Costumed passengers and lengthy parking, provides a wonderful free spectacle.