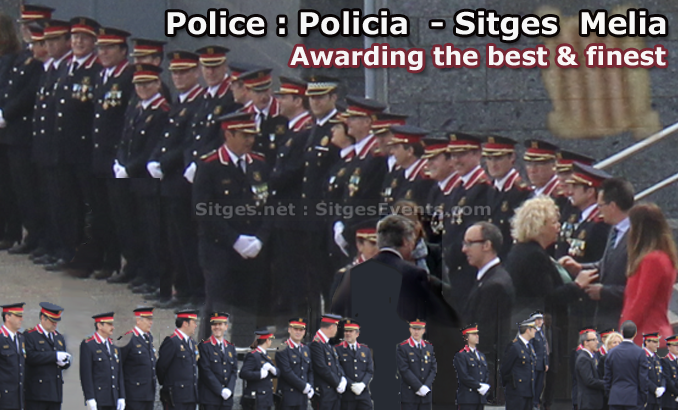 Sitges recognising our Metropolitan Police Region (Dia de les Esquadres)
11th April 2014
with Miquel Forns (Mayor of Sitges)
Held in Sitges as an annual event, along with those involved in security, emergency and other support personnel.
A day of recognition and the merit of the Catalan Policemen & Policewomen in their police work.
Sitges acull la celebració del Dia de les Esquadres
Dia de les Esquadres – Regio Policial Metropolitana Sud
11 d'abril de 2014
Miquel Forns (Alcalde de Sitges)
The Minister of Interior, Ramon Espadaler Friday presided the official ceremony of the Day of the squares of the Metropolitan Police Region South Melia Sitges. The celebration was attended by the Mayor of Sitges, Michael Horn, who was in charge of making the inaugural speech, during which he stressed "the job of the Mossos d'Esquadra, both in day to day events in special, in the case of Sitges bring a special engagement. "
The Minister thanked the Mayor Espadaler and Sitges hosting the meeting, and stressed "the Mossos d'Esquadra police are integral and proximity" and gave as an example the newly opened office of the families of missing persons. "The missing 97'5% of cases were resolved, and only 2.5% are not solved yet. The aim is to assist these families through proximity, "said the Minister.
Meanwhile, the curator Cristina Manresa, head of the Southern Metropolitan Region, said that "the commitment of the Metropolitan South Police Region through mutual understanding and joint work with institutions, associations and organizations to build a shared security ".
The event was also attended by the regional delegate of the Government in Barcelona, ​​Fernando Brea; General Secretary of the Interior, José Martínez; Director General of Police, Manel Prat; the chief commissioner of the Mossos d'Esquadra, José Luis Trapero; Commissioner Chief of Police Senior Coordination David Pique; chief curator of the Metropolitan South Police Region, Cristina Manresa and sotscap Superintendent of the Metropolitan Police Region South Antonio Antolin.
During the ceremony congratulations were given to 191 members of the Mossos d'Esquadra and six members of the administrative staff of the Metropolitan South Police Region, as well as two Civil Guards barracks in St Andrews Barca, a member of the National Police Cornella de Llobregat urban and two guards, one of Ciutat Vella (Barcelona) and another Cornella de Llobregat.
Also received recognition in September local police populations of Sitges, Sant Boi de Llobregat, Cubelles Vilafranca, Martorell, El Prat de Llobregat Saint Vincent and the orchards and watching the blue area of ​​L'Hospitalet, and eight citizens with outstanding performances from civil society.
In the event of the brackets, which will be held on April 28 in Barcelona, ​​awarded 19 medals to members of the Metropolitan Police Region South. Among the winners include the meritorious actions of two young men of the police station in Sitges who saved a woman from drowning.
During the ceremony, there was a performance by the Barcelona Institute of the Arts, based in Sitges.