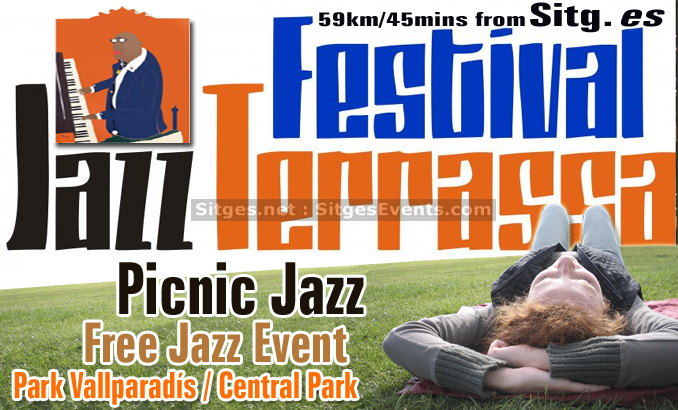 All-day open-air concert music in Terrassa's central park
Park Vallparadís
Part of Jazz Terrassa : 13th to 30th March 2014
Lively and popular festival
Record Fair
Free bike parking service
Buy Official Festival T Shirts
(designed by students of Xalest School : l'escola-taller Xalest.
Be prepared to see Catalan Picnicing, to the max.
With groups almost bringning the kitchen sink, to make amazing paellas. In the middle of the park. Homemade Spanish tortilla, whole legs of Serrano ham by the leg, brick-like chunks of Manchego, fideuà and traditional stews.
FACEBOOK : JOIN THE JAZZ PICNIC!

www.
jazzterrassa
.org
View Larger Map
Sun 23rd March Itiniary
11:00

| | |
| --- | --- |
| | |
12:00

| | |
| --- | --- |
| | |
14:00

| | |
| --- | --- |
| | "The Journey 1994-2014" |
19:00

| | |
| --- | --- |
| | |
Program 2014. 

FJT 33rd


(50 events)
Please check below of site for latest info:
www.jazzterrassa.org