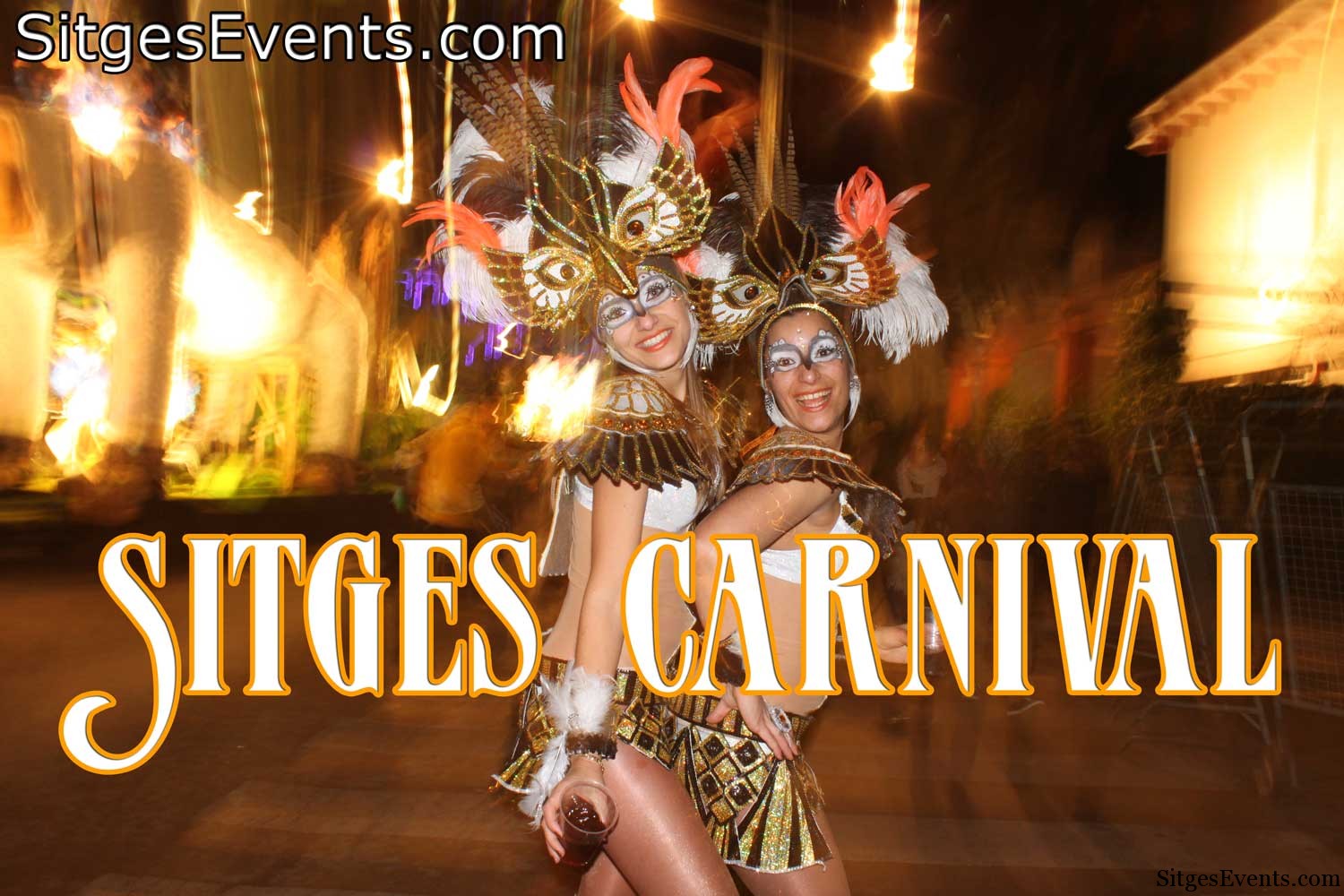 A wild, colorful and noisy 'Mardi Gra' type carnival.
With over 300,000 party goers, many in fancy dress, at it's height.
Normally involves weekend nightlife, with the bars open longer (often to 5 or 6am) in Sin Street & surrounding town center roads.
Then a Sunday Parade into the night & late night bars again, with many people hanging around to dawn. The same happens after one quieter night on Monday, with the Tuesday Parade.
Both often involve 40+ floats filled with beautiful people, young and old, of every persuasion, scantily dressed in colourful, wild and fun costumes. Parading around the streets of Sitges. Most Sitgeans and visitors dress up in crazy and fun costumes to dance and party through the night.
Regarded by many, as one of Europe's safest, wildest, street carnival.
Though rumbustious, the atmosphere is amazing with many people in fancy dress. Allowing the police to concentrate on marshaling the parade, which is behind a safety fence. Beauties male, female, young and old wear inventive, colourful and sometime skimpy outfits. Whilst the drumming bands keep the crowd and dancers active well into the morning.
And many stay out right through to after dawn
Parades (40+ Floats)
Often on both the Sunday & Tuesday on this route or similar

Cap de la Vila
Parellades
Bonaire
Passeig de la Ribera
Fragata
l'Avinguda Sofia
Carrer Espanya
Plaça Espanya
Espalter
Sant Francesc
Cap de la Vila.
Often, children in fancy dress & costumes also take to the streets on the same day, but in the afternoon.
The Kings Funeral Procession
Plaça Ajuntament, Major, Cap de la Vila, Parellades, Bonaire, Passeig de la Ribera (les Barques beach / plage de les Barques). 8.30pm Wednesday 13th February :Burial of the King – Passeig de la Ribera (les Barques beach / plage de les Barques). Itinerary
Typical Carnivals include:
Choosing & tours by the Sitges Carnival King & Queen (across the town, venues & schools)
Kids Parades & events
Bed race (vehicles made from/shaped as 'beds'!
Lots of nightlife events
Street dancing
Most people wearing costumes