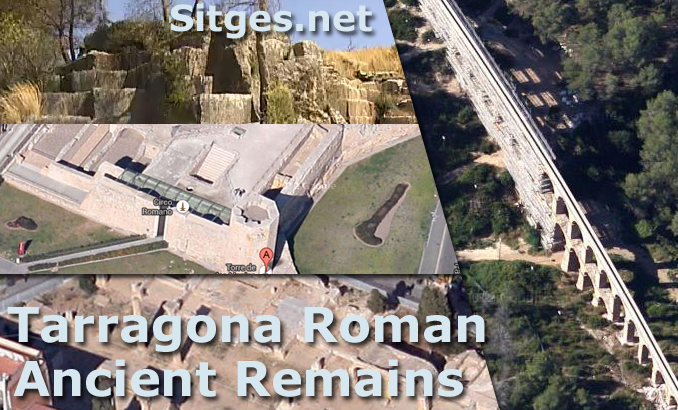 Tarragona is a lovely place to visit, next to the Mediterranean Sea.
With lots of ancient remains.
Other ones in Barcelona
Roman buildings & Remains
Roman Amphitheatre 1st century BC
31.6 km, 26 mins on C-32 from Sitges, near Barcelona (DIRECTIONS) 130 x 102 meters
Prices
Single adult entrance – 3.15€ (please confirm details here)
Joint entrance for all the enclosures – 10.55€
Times (please confirm details here)


Summer 14th May to 30th September (closed Oct to Dec)
Winter 1st January to 12th May (except Easter 26th March to 1st April, 2013 : as classed as summer time)


Tuesday to Saturday, 10 am to 19hrs 7pm.
Sundays from 10 am to 15hrs 3pm.

Roman Circus & Walls: Tarraco


Roman Circus (info)
Fees & Times similar to Amphitheatre
Cabiscol Tower
Minerva Tower
Arzobispo Tower



Roman Colonial Forum
Fees & Times similar to Amphitheatre

View Larger Map
Placa de Forum (part of a Roman Wall : Cafe closeby for summer lunch)

View Larger Map
Tower, alias the sepulchre or the Scipios

6 km (4 mi) east of Tarragona
On coast road

Roman Quarry – Cantera Romana de El Médol Quary (info)
Carretera N-340 a 8 kms. de Tarragona 43006 Tarragona (41.142597,1.342285) Large basin of 200 meters+, good for a pic nic / forest walk
Schedules (please confirm details here)
19th April to 30 Sep Tuesday to Saturday Open all day From 9:00 to 20:00 (Public holidays and Sundays From 9:00 to 15:00)
1st Oct to 29th Mar Tuesday to Saturday From 10:00 to 16:00
(Public holidays and Sundays From 10:00 to 15:00)
Closed: Monday
Closed: 1st and 6th January, 1st May and 24th and December 26th.
Rates General: 3,15 €


View Larger Map
Les Ferreres Aqueduct / Pont del Diable Bridge (info)

4 kilometres (2 miles) north of Tarragona
217 m (712 ft) in length
Tall two tier arches (26 m/85 ft high)

N-240 toward Lleida (4 Km from Tarragona)

View Larger Map
Map

View Tarragona Roman ancient remains in a larger map
Religious buildings
Cathedral, dating to the 12th-13th centuries, combining Romanesque and Gothic architectural elements.
Convent of the Poor Clares, near the walls
Convent of Santa Teresa
Church of the Capuchins, the parish church of the port
Convent of Sant Francesc
Jesuit College was turned into barracks, their church, however, has been restored to them
Convent of the Dominicans, now the town hall
Archiepiscopal Palace, situated on the site of the ancient capitol, one tower of which still remains. It was rebuilt in the 19th century.
Santa Maria del Miracle Church Remains (Holy Mary of the Miracle: demolished around 1915) at the Roman amphitheatre. Belonged to the Knights Templar. Then used by the Trinitarian Fathers, Once a penitentiary
Inscription in the podium, dated 3rd century AD (reign of Elagabalus)
In 259, during the persecutions against the Christian ordere by Emperor Valerian, here were burnt alive the city's bishop, Fructuous, and his deacons, Augurius and Eulogius.
The city is also home to the National Archaeological Museum of Tarragona
Pre Roman Cyclopean walls foundations, near the Cuartel de Pilatos.
Part of the palace of Augustus (prison in 19th century)
The Roman ruins of Tarraco have been designated a World Heritage Site by UNESCO.