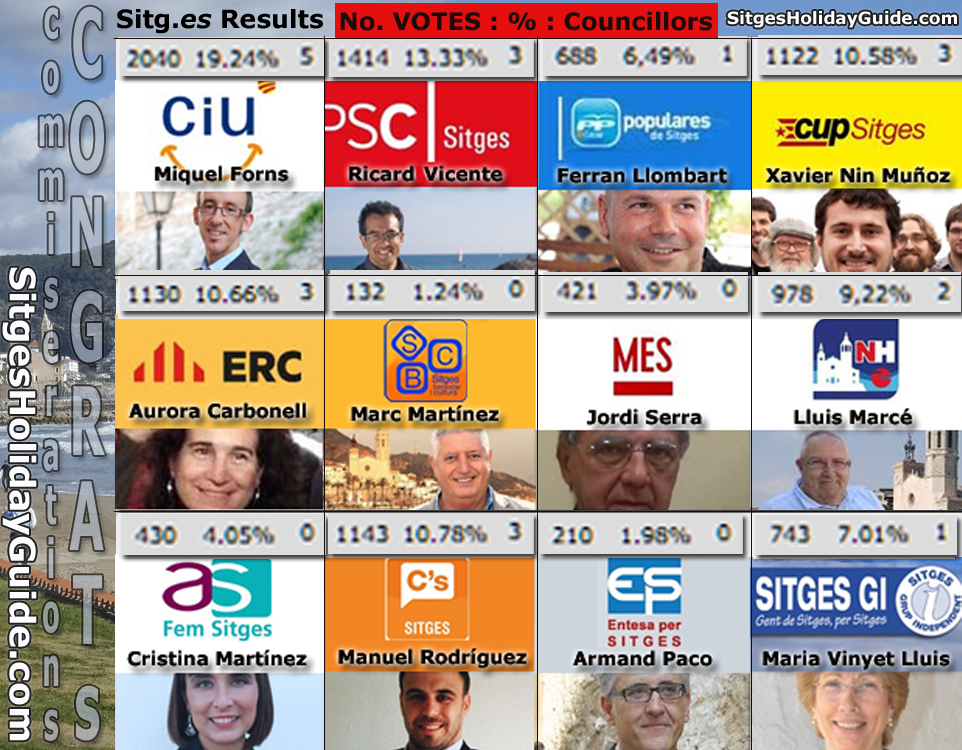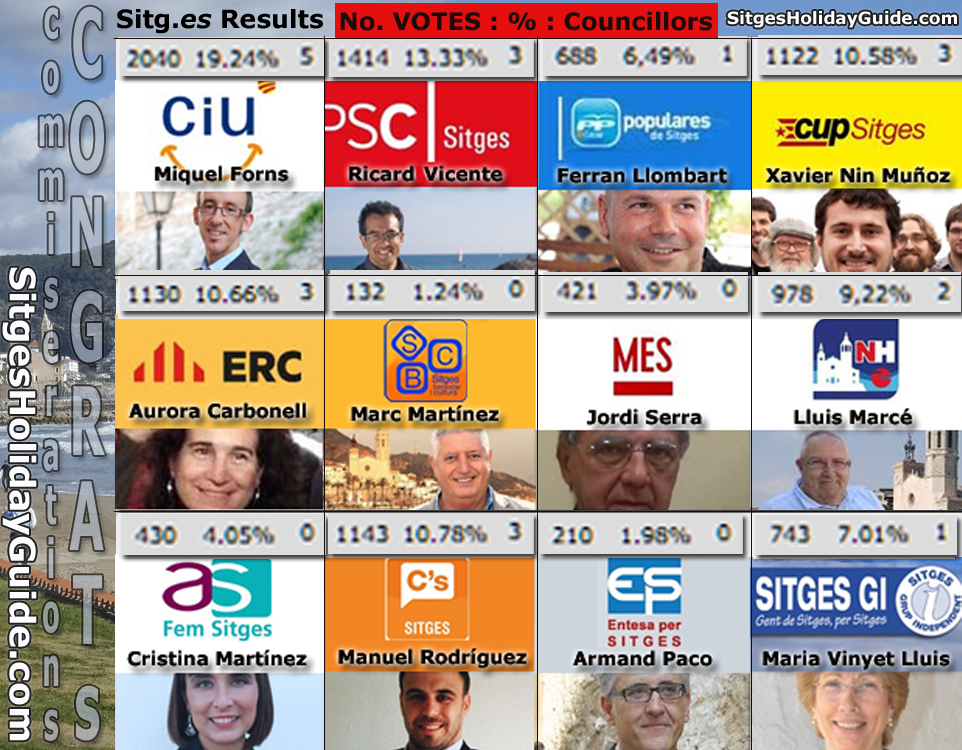 CiU voted in as the leading political force, followed by PSC and Citizens (entering the City Council for the first time). ERC again be represented with 3 councillors. Participation has been closed in Sitges with 56'17% (10,712 voters).
CiU won the elections in Sitges with 19'2% and 2,040 votes, which means you get five councillors. SEP – PSC – CP is positioned as the second political force with 13.3% (1,414 votes) and 3 councilmen, followed by citizens who joins the City of Sitges with 10.7% (1,143 votes) and 3 councilmen . ERC has gained 10.6% (1,130 votes) and returns to the City with 3 councillors. The CUP get a 10.5% (1,122 votes) and also manages three councillors. NH ending the day with a 9'2% (978 votes) and 2 councillors, Sitges GI has obtained a 7% (743 votes) and 1 councillor. Finally, the PP closes the list of parties with municipal representation with 6.5% (688 votes) and 1 councillor.
The parties do not obtain representation in the city of Sitges are AS with 4.05% (430 votes), MAS 3.97% (421 votes), EPS 1.98% (210 votes) and SBC 1.24% ( 132 votes).
In the last elections in 2011, the PSC was ranked as first force in Sitges with 24'46% of votes, which represent 2,415 voters. CiU in second at 21'61% (2,133 voters), followed by the PP with 13'62% (1,345 voters), the GI Sitges 7.5% (740 voters), NH 7.05% (696 electors) and finally, the CUP reached 6.3% (622 voters). As for the blank votes, the day ended with a 4.39% of blank votes (433). With this bow, were the municipal plenary ICV-EUiA-E, and ERC + Ricat AXS-AM.
In terms of participation, the election day has been closed in Sitges with 56'17% (10,712 voters), a figure slightly higher than that of 2011 when the share stood at 55'15%. Blank votes were 154 and 104 invalid votes, and abstention was 43'83%.
More information:
> Summary of results in Sitges Resum de resultats a Sitges