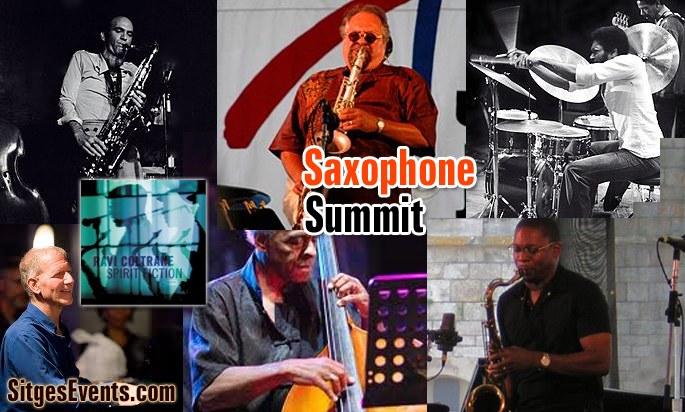 SAT OCT 19, 2013 – (dissabte, 19 d'octubre)
9:00pm until 12:00am   (21hrs to 24hrs)
IN SITGES
20 October at 05:00
Teatre Auditori Sant Cugat
Sitges &
Auditorium Theatre Sant Cugat
Joe Lovano, saxos / saxophone
Ravi Coltrane, saxos / saxophone
Dave Liebman, saxos / saxophone
Phil Markowitz, piano
Cecil McBee, contrabaix / bass
Billy Hart, bateria / drums
Joe Lovano, Dave Liebman and Ravi Coltrane joined under the name of Saxophone Summit (originally with the now deceased Michael Brecker)
To explore the periphery of jazz, particularly through the streets and experimental saxophonist, John Coltrane. Ravi's father.
Joe Lovano, Dave Liebman i Ravi Coltrane s'han unit sota amb el nom de Saxophone Summit, per reviure el que va suposar en el 2004 el projecte que comptava amb la presència del ja mort Michael Brecker.
La seva missió llavors i ara era explorar la perifèria de jazz, especialment a través de les avingudes pavimentades amb l'experimentació del saxofonista John Coltrane, pare de Ravi.
ENTRADES

http://www.bandsintown.com/event/6635023
http://www.concertin.com/concert/id2895218
Price Preu: 24 €
Advance Purchase Price:  18 €
Preu compra anticipada: 18 €
TICKET FOR TO TWO JAZZ CONCERTS
ABONAMENT ALS DOS CONCERTS DE JAZZ
Saxophone Summit
Dianne Reeves
Preu: 50 €
Preu compra anticipada: 40 €
Compra anticipada: abans del 5 de setembre
Joseph Salvatore "Joe" Lovano (born December 29, 1952) is an American post bop jazz saxophonist, alto clarinetist, flautist, and drummer. Since the late 1980s, Lovano has been one of the world's premiere tenor saxophone players[according to whom?], earning a Grammy Award and several mentions on Down Beat magazine's critics' and readers' polls. He is married to jazz singer Judi Silvano.more
Ravi Coltrane (b. August 6, 1965 in Long Island, New York) is an American post-bop jazz saxophonist. Co-owner of the record label RKM Music, he has produced artists such as pianist Luis Perdomo, guitarist David Gilmore, and trumpeter Ralph Alessi. more
David Liebman (born 4 September 1946) is an American saxophonist and flautist.[1] In June 2010, he received a NEA Jazz Masters lifetime achievement award from the National Endowment for the Arts.more
Phil Markowitz (born 1952) is a jazz pianist and educator.
He graduated from the Eastman School of Music and in 1979 had his "first big break" working with Chet Baker's band. He is most known as a sideman. He made a 1980 recording entitled Sno' Peas with Eddie Gomez and Al Foster. He recorded two live duo albums with Dave Liebman as a member of Liebman's group;[1] Markowitz calls this work the "biggest break of all" and they have worked together on and off for fifteen years. He has also served as a pianist in Bob Mintzer's Big Band.more
Cecil McBee (born May 19, 1935) is an American post-bop jazz bassist, one of the most influential in the history of jazz.[1][2] McBee has recorded as a leader only a handful of times since the 1970s, but has contributed as a sideman to a number of jazz albums.more
William "Billy" Hart (born November 29, 1940 in Washington, D.C.) is a jazz drummer and educator who has performed with some of the most important jazz musicians in history.more