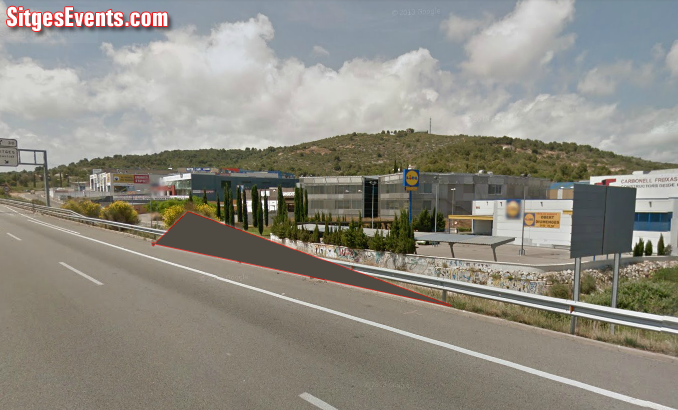 Exit for Mas Alba Shops
The Government is also to invest 5.5 million for the creation of exit with access to the industrial estate Pruelles – Mas Alba, in Sitges
Taking 15 months from the projects approval
Mas Alba Access
The polygon Pruelles – Mas Alba is the only municipality that has, and since its inception has been seriously prejudiced by not having good access. " These works will cost 5.5 million euros and will run in 15 months from project approval. With this entry into the estate of the Pruelles – Mas Alba wishes fulfilled one of the Sitges Town Council reiterated: a direct connection between the important communication channel C-32 and the commercial space industry and Sitges.
The Mayor of Sitges, accompanied by the Councillor for Planning, Environment and Housing, Elena Redondo, said the mayors of the region affected by the passage of C-32 have been in contact with the Department, which has shed some details on how advanced the negotiations between the Government and the concessionaire abertis. By Michael Horn "but you can always think of money by the toll, the agreement announced today is good for Sitges and our economic development, now we have to thank the civil society and the previous councils, from the in 1992 have never ceased in their claims for better conditions for users of Sitges and the region. "
Following the agreement between the Government and Abertis, which will grant the extension of the motorway barrier Vallcarca will have a discount of 30% on the current price, between Monday and Friday. This means that the price of the toll will increase from the current 6.42 to 4.49 from January 1, 2014. In addition, the new rate may be further reduced (to a maximum of 50%, which would be 3.14 euros) with the current criteria of frequency, with high employment and sustainable vehicle. Users who wish to obtain these new prices will get a special Teletac no cost, but with annual maintenance fee.
CATALAN: http://www.sitges.cat/jsp/noticies/detall.jsp?id=78222253
Cut to C-32 toll's
As of January 1, Garraf tunnels users pay between 30 and 50% less. The Government also invest in Sitges 5.5 million for the creation of exit access to the estate Pruelles – Mas Alba.
The toll tunnels in the C-32 will cut tariffs from 1 January 2014, announced Wednesday the Minister of Land, Villa Santi. In addition, improvements in output will introduce Sitges center, such as creating a shortcut to the estate Pruelles – Mas Alba.
The Mayor of Sitges, Michael Horn, appeared before the media to assess the government's decision of the Government on new toll rates for the C-32 come into effect from 1 January 2014. In addition to the reduction in the case of Sitges, Horn has highlighted the importance of investment announced by the Government for the release of Sitges Centre.
This action will allow the Mayor of Sitges as "economically revitalize the town. This was a claim history from the late 90th and eventually be carried out.