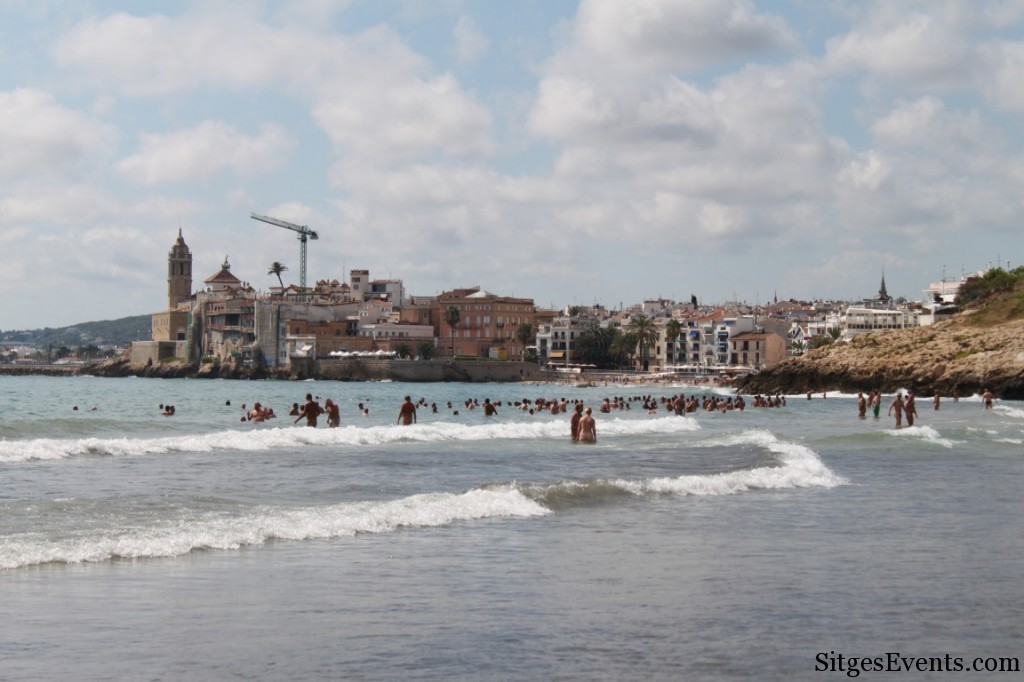 tincungos.org
See original
Catalan: tincungos.org/ca/guia-de-platges-catalanes-on-poden-anar-gossos/
Spanish: tincungos.org/es/guia-de-playas-para-ir-con-el-perro-en-cataluna/

Some beaches of Barcelona, ​​Tarragona and Girona allow access to dogs all year round, unlike most
The heat has arrived, the summer sun threatens their usual strength and beaches become essential. But not everyone can access. Many coastal municipalities prohibit the presence of dogs on the beaches during the summer months to avoid, say their ordinances, which may cause inconvenience to bathers. So we thought it useful to share with you this guide Catalan beaches where dogs can go.
There have been several campaigns to convince municipalities that man's best friend also need to bathe in summer and especially to run on the sand, but the truth is that there is still much work to do. Barcelona had agreed to seek a solution in this regard, but ultimately the promise has been postponed. Other Catalan municipalities does allow for every month of the year that dogs can play some of its beaches. The debate is wide open because, by some municipalities and swimmers, dogs can create problems and dirty beaches. State law prohibits entry to the presence of dogs on beaches but each municipality can regulate, from the ordinances, if authorized bathing dogs.
Given the difficulty of knowing which beaches are accessible with the dog and what not from Tincungos analysed the regulations affecting different Catalan beaches and have divided into three groups:
Tolerant

 

– The dog that allow access without restriction (it is assumed that the dog must be vaccinated must be registered and can not disturb other swimmers).

 

In this section we have also included specifying that distinction legally beaches do not allow dogs but the presence of swimmers tolerated and the Municipal Police, at least so far, no sanctions.
RESTRICTIVE

 

– ones that allow access to some restrictions (especially during the summer months).

 

This section missing some beaches of Girona and Tarragona.
Prohibitionist

 

– Those that do not allow in any case the presence of dogs.
Although the information has been verified, it is advisable to be aware of the signs of each beach, because the rules can be changed. The trend is that increasingly there are more beaches accept dogs. If you know something that is not included in the list, please let us explain to info@tincungos.org. Here is a  guide Catalan beaches where dogs can go.
BEACHES Tolerant to dogs
Girona (Costa Brava)
ESTARTIT.

 Platja de Pletera (

Beach

 

Pletera)
It is a virgin beach, long and clean and surrounded by a natural environment. It is located in the southern part of Estartit (Torroella) and in front of the Medes Islands. Once finished promenade there Estartit Griells beach and then we come Pletera, there is a big signpost that does not lead to confusion. To the south is the mouth of the Ter. 
        How to get there?

By car. Arriving in Estartit and the height of the restaurant "Games" turn right down the street from the Pletera. The following until we reach a crossroads. On the right we would go camping Les Medes us but turn left. Go past the campsite "El Molino" and after a while we turn right along the avenue Medes Islands. Follow this avenue until the end where you will find place to park.
On foot. If you can go walking, you will have no problem as you can get from Estartit. You have to walk all the great beach and then comes the Pletera.
For more information, call the tourist office on the 977.75.19.10 or visit their website.
Castello d'Empuries
Platja de Rubina (Beach Rubina)
Catalonia is the first beach that accepted dogs, recalls proudly from the Tourist Office. Some councils have called for even ask them how they did and copy their model. The space is defined and there is no news of misunderstanding among bathers. Not all access to the beach allows dogs only part of the left, which is further north, towards Roses.
            How to get there?

It can only be reached by car and by doing so, you must enter in Empuriabrava, overcoming the main roundabout and reach the second round, where the flying club in the municipality. We must go straight to the end iquan the asphalt ends where it appears to leave the car park. There are plenty of places.
For more information visit the website of the Tourist Office or call by phone at 972 450 802.
Barcelona area
Sitges
Cala Vallcarca
Only Sitges Beach allows access to the dog. It is the beach of Cala VALLCARCA. This is a little secluded cove respect each other and instead promenade, the environment has a small copse. It is also surrounded by a cement plant that removes the charm.
            How to get there?

 Car. The best way to get there is by car from the C-31. It has a small parking lot with a hundred places.
In Sitges there are two beaches where swimmers took some time with their dogs, though not allowed. However, if the animal does not cause problems, it is usually fine. Are the beaches and shopping Grill. These are two beaches in the municipality and are more beautiful than the Cala Vallcarca.
Tarragona
AMETLLA DE

 

MAR
Cala Bon

 

Caponet.
To get there, passing by the urbanization Golden Rocks. It is 500 meters from the village, so they can walk. In this town there is also the platja del Cementiri (Beach Cemetery), which is not allowed the presence of dogs, but even so, there are always, swimmers do not usually tolerate fine.

DELTA EBRO


Bassa de l'Arena (

Pond Arena)
Yes we can allow access to dogs all year round.
                How to get there?

Car. Going from Deltebre Riumar direction shortly before reaching Riumar is a roundabout signposted Bassa Arena. You follow the instructions.
In Tarragona there are two beaches where many people took the dog and the local police does not usually punish nor are common problems with other swimmers. These beaches Eucalyptus, Amposta and Cala Trabucador Sant Carles de la Rapita.However, dogs are not allowed access.
tincungos.org
See original
Catalan: tincungos.org/ca/guia-de-platges-catalanes-on-poden-anar-gossos/
Spanish: tincungos.org/es/guia-de-playas-para-ir-con-el-perro-en-cataluna/
BEACHES RESTRICTIVE
BARCELONA
In the Catalan capital, dogs are still many limitations. They have been banned during the Easter and all weekends from April to October and any day from 1 June to 16 September.
VILANOVA I LA GELTRÚ
Until now a nudist beach accepting dogs thanks to a pilot but after complaints from swimmers, town's council has reverse and is committed to find another space.
El Prat de Llobregat
Prohibited from 1 June to 31 September.
VILADECANS
In Myrtle Beach and Pineda is prohibited from April 1 to September 30.
SAN ADRIAN
Prohibited from 15 May to 30 September.
BADALONA
The dogs can be accessed from 1 June to 1 September.
MONTGAT
Prohibited from 1 June to 31 September.
MASNOU
Prohibited from 1 April to 30 September.
PREMIA DE MAR
Prohibited from 1 April to 30 September.
VILASSAR DE MAR
Prohibited from 1 May to 31 October.
CABRERA DE MAR
Prohibited from 1 May to 30 September.
MATARÓ
Prohibited from 1 May to 30 September.
Sant Andreu de Llavaneres
Prohibited from 1 April to 31 October.
ARENYS DE MAR
Since 2014, the City of Arenys de Mar is slightly more permissive and accepts that dogs can also go to the beach but during the summer months only be done early in the morning. From 1 June to 16 September, only dogs can range from 6 to 8 am. The rest of the year, the dogs can be accessed at any time.
Canet de Mar
Prohibited from 1 April to 31 October.
CALELLA
Prohibited from 1 May to 31 October.
SANTA SUSANNA
Prohibited from 1 April to 31 October.
SANT POL DE MAR
Prohibited from 1 May to 30 September.
PINEDA DE MAR
Prohibited from 15 May to 30 September.
MALGRAT DE MAR
Prohibited from 1 April to 31 October.
TARRAGONA
Dogs have been banned from 1 April until 15 October.
Prohibited Beaches



SANT VICENÇ DE MONTALT
Never allow the presence of dogs on beaches.
 Boilers ESTRAC
Never allow the presence of dogs on beaches.
And here the guide of Catalan beaches where dogs can go have prepared for you, hope you have been useful. If you have information about any changes in the guide to the beaches or other beaches where dogs are allowed, please let us know by commenting on this story. Thanks!
tincungos.org
See original
Catalan: tincungos.org/ca/guia-de-platges-catalanes-on-poden-anar-gossos/
Spanish: tincungos.org/es/guia-de-playas-para-ir-con-el-perro-en-cataluna/