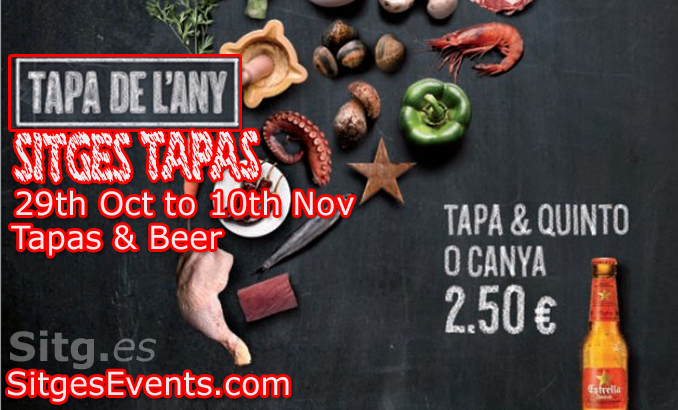 Start Date: October 29, 2013
End Date: November 10, 2013
Sunday November 3rd: Melia Hotel's Auditorium
La Tapa de l'Any de Catalunya 2013 : Open to Public:
Taste one of the tapas finalists + Estrella beer = 3€
Tapas Competition
18 tapas
by 18 chefs in Sitges
Taste one of the finalist tapas +Estrella beer = 2.50€ (some venues 3€)
The Guild of Hospitality Sitges choses finalists. Each chef will present their tapas.
Hosted by:
'Quim Masferrer' , actor and host of TV3 's Foraster
alongside media chef 'Isma Prados'
Monday November 4th: Melia Hotel's Auditorium
Monday only for professionals, with presentations of first-order chefs and their cuisine from around the world . From classical Andalucian tapas to Japanese mini-dishes.
Albert Marimon
Xavier Franco
Josean Merino
Nandu Jubany
Enrique Valenti
Roberto Ruiz
Carles Abellán
Hideki Matsuhisa
Dani García will offer his creations:
SUNDAY, NOVEMBER 3 (HOTEL MELIÀ, Sitges)
Presenters:
Quim Masferrer i Isma Prados
Tapas Contest
11:00 a.m.
Opening and introduction
11:30 a.m. to 11:50 a.m.
1st shift x 3 contestants
11:55 a.m. to 12:15 p.m.
2nd Shift x 3 contestants
12:20 p.m. to 12:40 p.m.
3rd shift x 3 contestants
12:45 p.m. to 1:05 p.m.
4th shift x 3 contestants
1:10 p.m. to 1:30 p.m.
5th turn x 3 contestants
1:35 p.m. to 1:55 p.m.
6th Time x 3 contestants
2:00 p.m.
Award Ceremony
:by
The Guild of Hospitality Sitges (El Gremio de Hostelería de Sitges)
and Estrella Damm.

View Larger Map