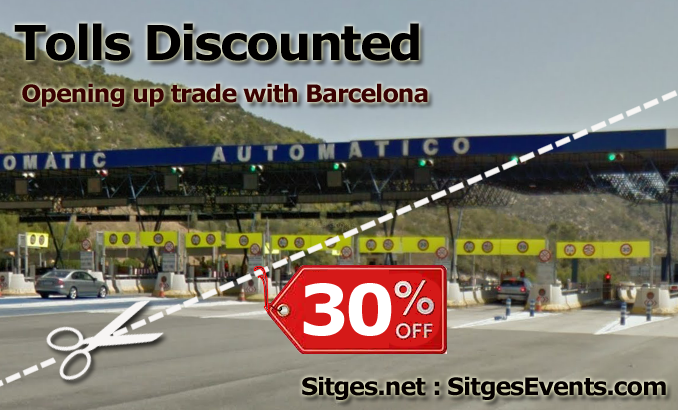 From January 1st 2014, pay between 30 and 50% less for Garraf tunnels
After negotiations between the council and operators, Abertis.
At motorway barrier Vallcarca:
Discount of 30% on the current price, between Monday and Friday
(6.42€ to 4.49€)
Maximum of 50% discount for those on frequent use (Teletac especial) or special vehicles (sustainable vehicles)
(to  3.14€)
Said by:

The Mayor of Sitges, Miquel Forns
Minister of Land (conseller de Territori) Santi Vila
Councillor for Planning, Environment and Housing (regidora d'Urbanisme, Medi Ambient i Habitatge), Elena Redondo
a change to "economically revitalize the town"
Exit for Mas Alba Shops
The Government is also to invest 5.5 million for the creation of exit with access to the industrial estate Pruelles – Mas Alba in Sitges
Taking 15 months from the projects approval
—————————————————————-
Rebaixa al peatge de la C-32
A partir de l'1 de gener els usuaris dels túnels del Garraf pagaran entre un 30 i un 50% menys. La Generalitat també invertirà a Sitges 5.5 milions d'euros per a la creació de la sortida d'accés al polígon Les Pruelles – Mas Alba.
El peatge dels túnels a la C-32 rebaixarà tarifes a partir de l'1 de gener de 2014, segons va anunciar dimecres el conseller de Territori, Santi Vila. A més, introduïrà millores a la sortida Sitges Centre, com la creació d'un accés directe al polígon Les Pruelles – Mas Alba.
L'alcalde de Sitges, Miquel Forns, va comparèixer davant dels mitjans per valorar la decisió del govern de la Generalitat sobre els nous preus dels peatges de la C-32 que entraran en vigor a partir de l'1 de gener de 2014. A més de la rebaixa, en el cas de Sitges, Forns ha posat de relleu la importància de la inversió anunciada per la Generalitat per a la sortida de Sitges Centre.
Aquesta actuació ha de permetre segons l'Alcalde de Sitges "revitalitzar econòmicament el municipi. Aquesta era una reivindicació història des de finals del 90 i, finalment es podrà dur a terme. El polígon de Les Pruelles – Mas Alba és l'únic que té el municipi i, des de la seva creació s'ha vist greument perjudicat per no comptar amb un bon accés". Aquests treballs tindran un cost de 5,5 milions d'euros i s'executaran en 15 mesos a partir de l'aprovació del projecte. Amb aquesta entrada cap el polígon de Les Pruelles – Mas Alba s'acompleix una de les voluntats reiterades per l'Ajuntament de Sitges: una connexió directa entre la important via de comunicació de la C-32 i aquest espai industrial i comercial sitgetà.
L'alcalde de Sitges, acompanyat de la regidora d'Urbanisme, Medi Ambient i Habitatge, Elena Redondo, ha explicat que els alcaldes de la comarca afectats pel pas de la C-32 han estat en contacte amb la Conselleria, fet que els ha permès conèixer alguns detalls de com avançaven les negociacions entre la Generalitat i la concessionària ABERTIS. Per Miquel Forns "tot i que sempre es pot pensar en millorar el preu del peatge, l'acord anunciat avui és bo per Sitges i pel nostre desenvolupament econòmic, ara cal agrair a la societat civil i també als anteriors ajuntaments que, des de l'any 1992 no han cessat mai en les seves reclamacions per aconseguir millors condicions per als usuaris de Sitges i la comarca".
Després de l'acord entre la Generalitat i Abertis, que no suposarà l'allargament de la concessió de l'autopista, la barrera de Vallcarca tindrà una rebaixa del 30% sobre el preu actual, entre dilluns i divendres. Això suposa que el preu del peatge passarà dels 6,42 actuals als 4,49 a partir de l'1 de gener de 2014. A més, aquesta nova tarifa es pot veure encara més reduïda (fins a un màxim del 50%, que serien 3,14 euros) amb els criteris actuals de freqüència de pas, vehicle sostenible i amb alta ocupació. Els usuaris que desitgin obtenir aquests nous preus hauran d'obtenir un Teletac especial, sense cost, però sí amb quota de manteniment anual.