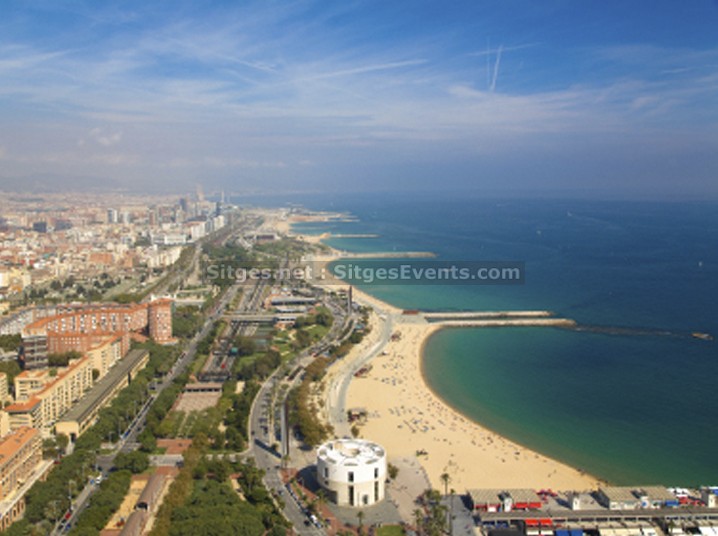 Western Beaches

Beaches out of town towards Barcelona
Les Botigues (Platja de les Botigues):
– Distance from city center
Located in the Les Botigues urban center it has various food & drink stands, but most are towards the Barcelona end
– Water Sports
Availability of equipment to hire
– Size & Remoteness
Whilst it gets busy, it is 100 meters wide, on average, allowing plenty of space
– Views
The ocean in front, with a nice hills towards Sitges and residential with a busy road behind. Some, at the Barcelona end has buildings along side.
– Atmosphere
General mix of bathers, of mixed age, not nude
– Sunbathing
Largely unobstructed untill the sun goes down, away from the shadow of large buildings, as the sun sets behind it
Additional Notes:
Swimming area for people with limited mobility. Certified with the ISO 14.001 and the SCTE tourism quality commitment

Ginesta Cove:
– Distance from city center
In an isolated spot alongside & with access via Port Ginesta Marina. It is a non-service beach
– Water Sports
None
– Size & Remoteness
Pretty small, but only used by those from the marina. Facilities are a walk away back into the marina
– Views
The coastal cliffs behind the beach and their fauna gives it natural beauty and can block the sun late in the day
– Atmosphere
A beach for those that like isolation but not the need for a trek to reach it
– Sunbathing
Not nude and no real type of user. Might be a good place to meet someone with a boat, but you may need to wait a while!

Additional Notes:
Was being affected by the Marina's enlargement building work. Filtered fresh water from the cliffs surfaces along this stretch
Start of Les Botigues Beach on other side of Marina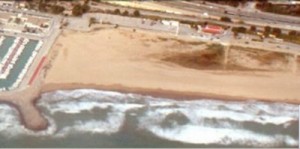 Garraf (Garraf Beach):
– Distance from city center
At the foot of the Garraf, a small community (area) on it's own on the coast. Not that many faculties immediately around, however there is the typical beach bar and more interestingly an unassuming hotel on the beach www.hotelgarraf.com (last time we looked, 2 people with balcony and sea view from 70€ & 90€ per night)
– Water Sports
Pedalos for rent
– Size & Remoteness
380 meters long / 28 meters wide on average
– Views
The hills at the side make for an interesting cove feeling, whilst not being totally isolated
– Atmosphere
General mix of bathers, of mixed age, not nude
– Sunbathing
Being below the landscape behind, where the sun sets, it may not get sun late in the day
Additional Notes:
Certified with the ISO 14.001 and the SCTE tourism quality commitment & adapted to the needs of people with limited mobility. Characteristic bathhouses
Morisca Cove:
– Distance from city center
Isolated in the middle of the Garraf Coast with access from the windy mountain road around the hills, recently well protected but not for the faint hearted (yes you Lesley!). So no facilities and often parking fees, but offers bar-restaurant service, showers and WC's a walk up the cliff
– Water Sports
None, but it is a great spot to stop in a boat with a good anchor and can offer a good wade in, if calm as less deep (no tides)
Some brave and locally experienced souls dive the surrounding rocks and crevices, but a friend got grabbed by an Octopus in the deep, so be paired up and be prepared
– Size & Remoteness
Small at 140 meters long and an average of 50 meters wide. It can get a bit busy in very peak times, another beach can be found opposite the cement factory, just along the coast. Popular for boats
– Views
Lovery cove surrounded by cliffs and the natural park
– Atmosphere
Nude beach that tends to be just that. Families and all
– Sunbathing
Does have hills behind so will lose the sun late in the day, but then there is the drive home to do, anyway
Additional Notes:
Involves a drive home, if you do not work in the bar!. It's good to leave early. Traffic can be a little heavy during the Sunday evening, with those returning to Barcelona, but it's a nice scenic drive)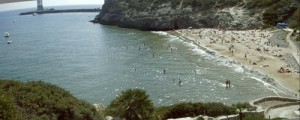 Morisca Cove Bar / Restaurant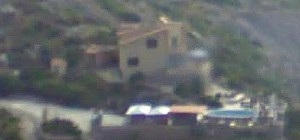 Beach area next to Morisca Cove (boats gather there)