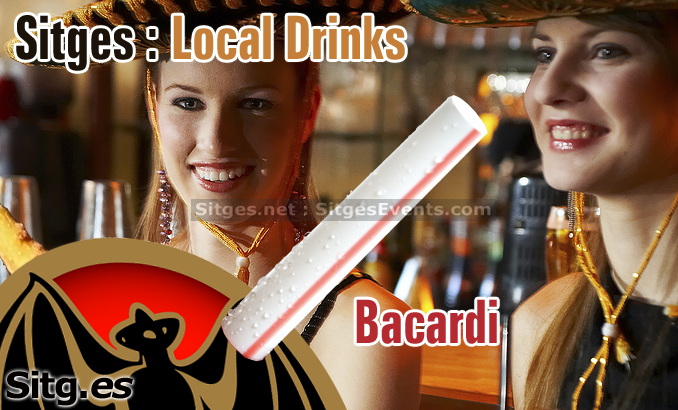 Famous brand with originating in Sitges
With a long history & production by the Bacardi family
www.casabacardi.es
More info & reservations: tel. 93 894 8151
Address: Mercat Vell, Pl. de l'Ajuntament, 11
More info: http://www.casabacardi.es/default.asp?pagina=home&idioma=en
TOURS OF CASA BACARDI
Guided tours are conducted by the BACARDI Ambassador, a seventh generation member of the family who will show you around the four areas which make up the exhibition.
HERITAGE (history) ROOM
PRODUCTION ROOM
BACARDI LOUNGE BAR
BACARDI TERRACE BAR
The historic 'Casa Bacardi' visitor centre in Sitges (Barcelona) also provides event organisers, agencies & companies a modern, interesting, venue to hold successful events in an elegant and cutting-edge setting.
Located in the historical quarter of our pretty Mediterranean town, the birthplace of Don Facundo BacardíMassó,  founder of the world's most highly-prized rum. Built in 1890 by the architect Gaietà Buigas,  this iconic modernist Mercat Vell (old market building), exudes history and character.
Visitors can take a guided tour through its various rooms, in which they can immerse themselves in the history of Sitges, its relationship with the Bacardi family, and the revolution 150 years ago that helped to develop the rum-production process as we know it.
Lastly, professional mixologists lay on a master class in the Lounge Bar to teach you all the special tricks you need to prepare various original cocktail specialities using Bacardírum, such as Mojitos, Cuba Libres, Daiquiris and Piña Coladas. Guests can then make their own cocktails and enjoy them in the Lounge Bar or on the terrace.
AT CASA BACARDI IT IS POSSIBLE
CASA BACARDI is a unique space offering all the equipment you need to lay on various kinds of events such as incentive contests, cocktail-making masterclasses, training sessions, product presentations, team building workshops, etc.
Why not combine a visit to CASA BACARDI with a sightseeing tour of modernist Sitges or a trip to try a "BacardíMenu" in one of our associate restaurants.
Please ask us for more information.
Special requests dependent on availability
FACTS AND FIGURES
– Maximum capacity for cocktail option: 100 people
– Maximum capacity for master class option: 30 people per session
– Equipment: Plasma screens in all rooms
– Catering office
=======================
ES
LA VISITA A CASA BACARDI
Las visitas están guiadas por el Embajador de la Marca BACARDI -miembro de la séptima generación de la familia- que conducirá a los asistentes a través de los cuatro espacios que componen el centro.
SALA HERITAGE
En esta sala, el visitante conocerá Sitges y su vínculo histórico con BACARDI. El origen del murciélago como imagen de la marca, la familia y su historia de perseverancia, los premios del ron más galardonado del mundo y diferentes publicidades a lo largo de la historia. En definitiva, hará un recorrido por la historia de BACARDI desde sus orígenes en Sitges hasta la actualidad.
SALA DEL PROCESO DE ELABORACIÓN
El Embajador de la Marca explica de forma experiencial las diferentes fases del proceso de elaboración del Ron BACARDI Superior y los procesos pioneros que Don Facundo aplicó para conseguir un ron suave y equilibrado.
Los visitantes podrán moler caña de azúcar en una antigua prensa, descubrir qué es la melaza, así como comprobar que Ron BACARDI Superior se envejece en barricas de roble americano y posteriormente se filtra por carbón vegetal.
BACARDI LOUNGE BAR
Un impresionante Lounge bar que representa el BACARDI del siglo XXI. Además de ser un espacio de estética vanguardista, constituye una escuela donde los visitantes reciben, de la mano de cocteleros profesionales, una clase magistral de preparación de Cócteles Originales BACARDI tan conocidos como el Mojito, el Cuba Libre, el Daiquiri y la Piña Colada.
TERRAZA BACARDI
Tras la formación personalizada, los visitantes tienen la oportunidad de degustar sus propios Cócteles Originales BACARDI en la terraza exterior del complejo, que goza de un ambiente cálido y agradable.
CAT
LA VISITA A CASA BACARDI
Les visites estàn guiades per l'Ambaixador de la Marca BACARDI -membre de la sèptima generació de la família- que conduirà als assistents a través dels quatre espais que composen el centre.
SALA HERITAGE
En aquesta sala, el visitant coneixerà Sitges i el seu vincle històric amb BACARDI. L'origen del ratpenat com a imatge de la marca, la família i la serva història de perseverança, els premis del rom més galardonat del món i diferents publicitats al llarg de la història. En definitiva, farà un recorregut per la història de BACARDI des dels seus orígens a Sitges fins l'actualitat.
SALA DEL PROCÉS D'ELABORACIÓ
L'ambaixador de la Marca explica de forma experiencial les diferents fases del procés d'elaboració del Rom BACARDI Superior i els processos pioners que Don Facundo va aplicar per aconseguir un rom suau i equilibrat.
Els visitants podran molar canya de sucre a una antiga premsa, descobrir què és la melassa, així com comprovar que Rom BACARDI Superior envelleix amb barriques de roure americà i posteriorment es filtra per carbó vegetal.
BACARDI LOUNGE BAR
Un impressionant Lounge bar que representa el BACARDI del segle XXI. A més de ser un espai d'estètica avantguardista, constitueix una escola on les visitants reben, de la mà de coctelers professionals, una classe magistral de preparació de Còctels Originals BACARDI tan coneguts com el Mojito, el Cuba Libre, el Daiquiri i la Pinya Colada.
TERRASSA BACARDI
Després de la formació personalitzada, els visitants tenen l'oportunitat de degustar els seus propis Còctels Originals BACARDI a la terrassa exterior del complex, que disposa d'un ambient càlid i agradable.