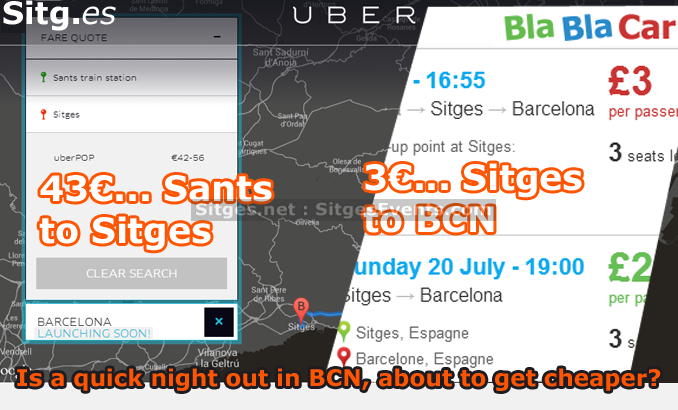 Is a quick night out in BCN or
a shuttle alternative to or from Barcelona Airport,
about to get cheaper?
Uber Barcelona is currently banned, so the promise of '43€… Sants to Sitges' and a small choice of cars (via their website), is still unrealised.
Spanish Taxi Confederation (CTE) released a press release stating the illegality of Uber, threatening nationwide protests
BUT watching Uber_Barcelona on Twitter for updates, isn't the only option
As 3€… Sitges to BCN is available now!
Via the 'legal', or not so far blocked, Bla Bla Car.
Where travellers offer a place in their vehicle, for the share of costs or largely for the company (chat)!
There are trips from Barcelona to London, Barcelona to Alicante etc.
And several, when we looked.
So other than Cabify, which might be the Cabbies favourite at 82€ to 102€ for Sants train station to Sitges,
the amount of choice can only go one way!